Lindens strong. That's our motto at The Lindens Program. Teamwork is at the core of everything we do. I have been a proud member of the Lindens team working as a clinical associate for almost two and a half years.  The Lindens is a residential program helping children and adolescents ages 5-21 overcome acute behavioral challenges due to severe autism or an intellectual or developmental disability.
Anyone who has worked within the program will tell you that your time spent here will lead you to experiences like no other. In a fast-paced residential setting, collaboration between members of our clinical, operational, and educational teams enables the most effective treatment for each child. The collaboration has connected me to some of my closest friends and greatest support systems.
Working day to day implementing behavior and support plans and assisting social workers and therapists in various therapies has molded career aspirations in clinical social work. 
What has really moved me is the level of care and guidance provided by many members of our leadership team. 
There is someone to offer direction no matter what career path you plan to pursue next.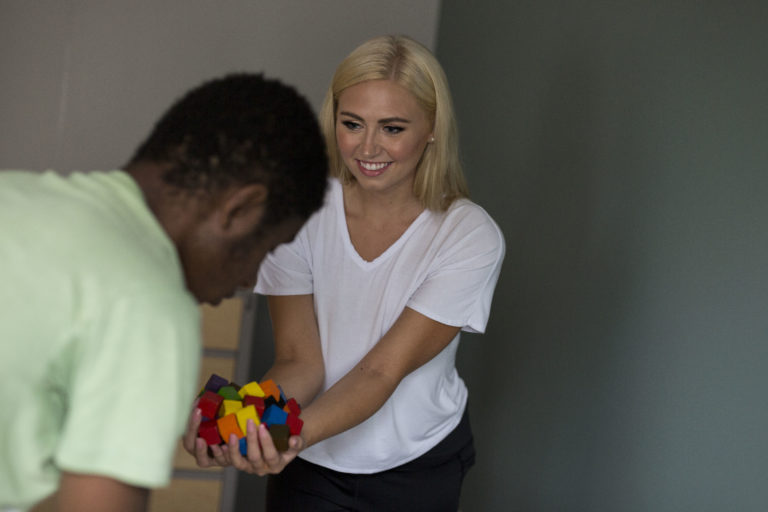 Senior Director, Tim McKenna and child psychologist Nikki Schwartz have helped guide me toward my calling in social work with an emphasis on clinical practice with children and families – a path upon which I will embark this Fall at Monmouth University. My program leadership team have been an incredible resource for me in preparing my graduate application. I've had incredible flexibility in my work schedule to accommodate my undergraduate pursuits. Bancroft offers full-time, part-time, and flex positions and I have worked all three of these schedules as my course load has varied over time. 
Many members of the Lindens team are also full and part-time students which only adds to the network of encouragement and strengthens the foundation for achieving personal and professional goals.
The support from leadership and team members has been instrumental in helping me identify my calling and reach my professional goals. I am forever grateful for the experience and bonds I have made with staff and the individuals we care for over the last few years, as it has shaped me into who I am today, both professionally and personally. To explore open positions at the Lindens, click here.
Earn your degree through Bancroft with tuition reimbursement & repayment!